We provide only high reliable solutions for reach trucks because of the increased axis to extend the fork out, we trust you'll want the best in safety and reliability when it comes to reach trucks.
You might recognise a reach truck like how some would describe it as a stacker with scissors extending forks. However, technically that could also be a double deep reach truck. Regardless of the type of reach trucks or stackers you require, we will have a solution for you.
Reach Truck Singapore Solutions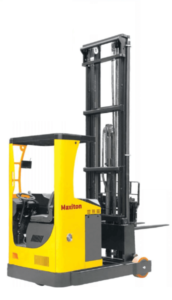 Maxiton CQD20(H)

Max capacity: 2T
Max lifting height: up to 9.5m
Most economical solution
Seated truck for increased safety and reduced operator fatigue
Local warranty and support for low operational downtime!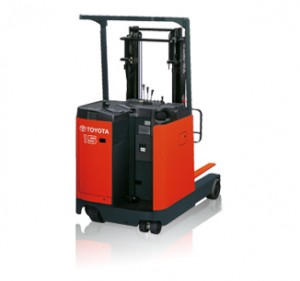 Toyota Reach Trucks (7FBR13/7FBR15 / 7FBR18)

Max capacity: 1.3T/1.5T
Max lifting height: 3m
World leader in various safety technology built in
Local warranty and support for low operational downtime!
This model is in limited stock as we are moving towards the newer 8 series of reach trucks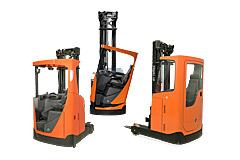 BT Reflex Reach Trucks (RRE140 / RRE160M)
Max capacity: 1.4T/1.6T
Max lifting height: 6.3m / 8.3m
Low operating cost / Fast working cycles
Local warranty and support for low operational downtimes!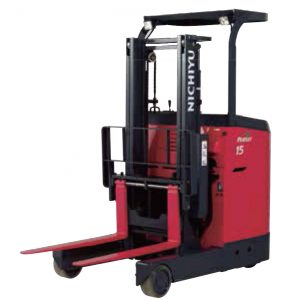 Reach Trucks By Other Brands
We do have reach trucks from other brands besides the usual Toyotas such as the Nichiyu Reach Trucks.  Drop us a line to find out more.
Considerations for Reach Trucks
When buying your first reach truck here are some pointers to check:
Capacity of reach truck is not the weight of your goods
All reach trucks have a limit they can lift. A 1.5T capacity reach truck will not lift 1.5T of goods to the maximum height. All of them have this load capacity chart that looks like this.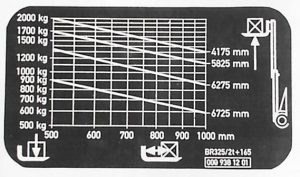 Load Capacity Chart From Wikipedia
Essentially what it means, is that the higher you lift your cargo, the less weight the reach truck can lift. So a 1.5T reach truck typically can lift about 600kg  (depending on size of cargo) at it's maximum height (eg: 3M)
Maximum allowable floor loading
A reach truck can easily reach 2T unloaded because they need to be heavy for stability when reaching out without toppling over.
When fully loaded with goods at maximum capacity your reach truck can weigh in close to 5T!
Door height
If your reach truck needs to go through doors, make sure that the door is high enough to let the reach truck through with it's mast fully lowered.
Very Narrow Aisle width
Even though these reach trucks are design for the narrow aisle operation, it still requires some working space.  As these type of reach truck is very specialised, they require a stringent environment to work in.  Check with us what fits your type of operation.
Local Available Local Support
Our reach trucks are supported by qualified technicians that uses original parts to ensure the long working life and serviceability of your equipment.
Any Pre-Loved (aka "Second Hand") Reach Trucks?
Once in a while we do have customers who are upgrading to forklifts and want to sell their existing reach trucks. Give us a tinker and we'll check it out for you.  Even our used trucks are serviced and reconditioned to make them look almost new.
Looking For Bigger models?
Yes we do have bigger models of reach trucks available. Just drop us a call or email and we'll advise you accordingly.
We buy in your used reach trucks too
Have an old reach truck to sell? Drop us an email with the description of the reach truck, some photos of the exterior of the reach truck as well as the silver information plate. We buy in used reach trucks of any age.