An industrial weighing scale is an excellent choice for bakeries and food or precision processing applications.
It has a large stainless steel platform, an easy-to-read LCD display on the weighing scale, and a locally calibrated system certificate so you can be sure of consistency in your products. Our industrial weighing scales also have the option for a printer output that allows you to easily track manual entries on a daily basis if needed.
Types of industrial weighing scales
Industrial weighing scales come in different forms, from table top systems to large weigh bridges.
Digital Weighing Bench Scale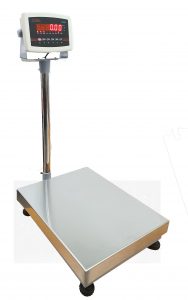 Bench type of industrial weighing scales are available in capacities of 60, 150, 300 and 600kgs
The key difference between the digital scales is in the accuracy resolution.
Bench scales come with built-in batteries and is also able to run off common wall mains 230V ac power.
The 60kg models are especially well suited for use as weighing scale for bakery.
The accuracy is up to +/– 10g at 60kg. This weighing scale for bakery comes with a digital display mounted on a post and is able to communicate with your external systems via a RS232 port.
Weighing Scale For Bakery Technical Specifications
Display: High brightness LED display
Capacity: 60kg
Accuracy: +/-10g
Platform Size: 400mm x 500mm (wrapped with polished SUS 403 stainless steel)
Overload protection: up to 90kg
Built-in batteries for portability
Weighing Scales on Pallet Jacks
Industrial weighing scale pallet jacks are a quick way to weigh the goods you have received on a pallet. An optional printer is available. Note: the printer and non-printer weighing scale pallet jacks are different models, the printer cannot be added to a non-printer version.
Weighing scale pallet jack technical specifications
Capacity: 2500kg (3000kg available on request)
Fork length: 1150mm
Fork outer width: 550mm
Display: LED
Accuracy class III
Attached printer available (please indicate upon ordering)
Weighing Platforms or Weighbridge
The biggest of the industrial weighing scale line-up. Weighbridges are mostly customised solutions and can range from 500kg to 5000kg and is available on platform sizes of 1200 x 1200 (mm) and 1500 x 1500mm.
Custom-built ball and cup systems are also available.
Customised Weighing Solutions
If you're looking at hooking up your weighing solution to a custom inventory system that will be able to tell you at a glance which units are approaching out of stock, we have the system for you. With a large monitor, we can display a simple red/green signal to tell you which shelves are (approaching) out of stock. Customised programming into your inventory management system can also be explored.
Speak to us!