Make the most of out your office storeroom or home bomb shelter space by adding storeroom racks in it!
Our heavy duty boltless storeroom racks has a capacity to hold loads up to 400kg per shelf of uniformly distributed load!
New 2016 prices starts from just S$150!
Built with heavy duty  industrial strength material for a lifetime of sturdy use
Shelf capcity of up to 400KGs for most dimensions
New boltless design allows you to reconfigure the selves to your hearts content quickly
Sizes from 60 x 30 x180 up to 180 x 60 x 300  (cm, w/d/h)
Width increments of 30cm and depth increments of 15cm
Storeroom rack quality differences
Our boltless storeroom racks are produced with quality in mind, with that, we have converted what used to be industrial racks into sturdy and safe racks for homes!
With our strong warehousing equipment background, our storeroom racks are designed to be "installed & forget" thus they are rated from 250kg up to 400kg. Definitely an overkill for any home but that's the way things are built to last!
What is a boltless rack?
Traditional storeroom racks are designed with a universal L bracket strip and fastened together with a bolt at the front and nut behind.  You might notice it from the image below.
While this might have served it's purpose there are some racks that unfortunately that do not stand the test of time and collpase because of a loosened nut or overloaded shelf.
Boltless racks are designed in such a way that it can be built up without using and bolts. By removing the nuts and bolts from the design, the rack is now easier, faster and safer to build.  Safer because you never need to worry if the bolt and nut has loosened over time.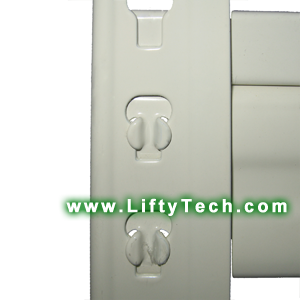 Not only is it easier to build, it is also easy to reconfigure. If you need to resize your shelf, all you need is a mallet and 5 minutes! No more fumbling with nuts, bolts, screwdrivers and spanners!  Just take a look at the back of the traditional bolted racks.
There are 2 nuts for each corner in an awkward and hard to reach corner. Imagine if you have reconfigured the shelf size and realised it wasn't big enough! No problem on a boltless rack, it gets reconfigured again in 5 minutes, try that with the tradition bolt and nut racks with 8 nuts.
Levelling is never an issue. With our unique slot in design, your shelf is always flat and level!
How to choose the storeroom rack size
Take measurement of your storeroom from the floor. This gives the most accurate reading.
Make sure that your desired storeroom rack is at least 2cm smaller than your measurement.
Example:

To put a storeroom rack of 120cm wide, your floor measurement must be at least 122cm
Storeroom Rack Sizes
| | |
| --- | --- |
| Width (cm) | Depth (cm) |
| 60 | 30 |
| 90 | 30 |
| 90 | 45 |
| 90 | 60 |
| 120 | 30 |
| 120 | 45 |
| 120 | 60 |
| 150 | 30 |
| 150 | 45 |
| 150 | 60 |
| 180 | 45 |
| 180 | 60 |
Heights available from 180cm (standard), 210cm, 240cm and 300cm
All shelves rated at 400KG except the following:
150 x 45 – 300KG
150 x 60 – 300KG

180 x 45 – 250KG

180 x 60 – 200KG
Over time, as you pile your rack with your collections, the storage rack just gets heavier, why risk a rack collapse because of an untested rack? Get a heavy duty rack and live with peace of mind that your rack will never fail you.
Think all racks are the same? You have never seen a collapsed rack before.
*Damage refers to cracking, breaking or collapsing of the racking system not resulting from misuse, negligence or accident. (T&C applies)