Drum handling equipment will help you to lift, tile and store those drums easily. Regardless you are using steel drums or plastic drums. Our drum handling equipment will be able to help you lift those drums easily.
Drum Handling Attachments
These attachments convert your fork lifts or pallet stackers into drum handling equipment. This is a quick and cheap method of converting existing forked equipment.  Please note that pallet jacks cannot be converted with these attachments.
However, if you have drums to handle frequently, you might want to invest in a proper drum handling machine.
A dedicated drum handling equipment is more stable and will eliminate the risk of the attachment coming off due to negligence.
Full Electric Drum Handling Equipment
Our top of the range drum handler is the Geolift FDH400-3M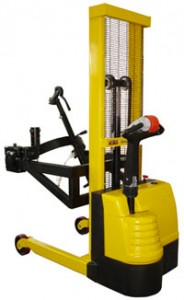 The FDH400 drum handler is your productivity boost. It offers full electric lifting and lowering as well as tilting.  Movement forward and reverse is also motor assisted. Your operator is only required to guide the drum handler along by the steering handles.
Semi Electric Drum Handler
A semi electric drum handler would be one that has motorised lifting. Tilting and movement on floor will require the operator to pull the drum handler along the floor. Very much like a pallet jack.
Manual Drum Handling Equipment
The most economical option would be to have a full manual drum handling equipment, this means that the entire drum handler is operated by hand or leg by pumping the drum handler to raise it up.
Regardless of which ever drum handling equipment you require we have a solution for you.
Information that will be good to include for us to help you faster:
Type of drum, plastic or metal
Capacity of drum
Are drums on a pallet?
If yes, what type of pallet and dimension of pallets
Height to lift the drums